AUTHOR´S INFORMATION
---
Full-length papers for publication in the Journal of Electronic Materials must be submitted electronically via web (see below for manuscript submission via web) by the end of the workshop. Papers not submitted at that time will not be included in the Proceedings.
Click on the link below for information on manuscript submission instructions related to the special issue to this workshop:
JEM paper submission instructions
SUBMIT MANUSCRIPT
Online manuscript submission deadline will be available in the "ANNOUNCEMENT" section of the home page. The link below provides the on-line submission tool for manuscripts:
II-VI Workshop paper submission
---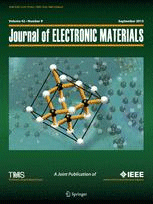 All submissions require an abstract of 200 words or less, a key words line, and a transfer of copyright form. Papers are reviewed by two qualified referees to determine suitability. The editor's decision to accept or reject a paper, based on referees' comments, is final.
The Journal of Electronic Materials reports on the science and technology of electronic materials while examining new applications for semiconductors, magnetic alloys, insulators, and optical and display materials. It publishes papers of interest to both nonspecialists and specialists in the electronic materials field. The journal contains technical papers detailing critical new developments in the electronic materials field, as well as invited and contributed review papers on topics of current interest.
WORKSHOP CALENDAR
| | |
| --- | --- |
| 2023 II-VI Workshop Abstract Due Date | Jun 9 |
| 2023 II-VI Workshop Notification of Accepts/Rejects | Jun 23 |
| 2023 II-VI Workshop Late-News Abstract Deadline | July 7 |
| 2023 II-VI Workshop Extended Abstract Deadline | Aug 18 |
| 2023 Hotel Reservation Deadline | Sep 28 |
| 2023 II-VI Workshop Adv. Registration Deadline | Oct 6 |
| JEM Paper Submission Deadline | Oct 30 - Dec 15 |
| 2023 II-VI Workshop | Oct 30 - Nov 2 |
WORKSHOP CHAIRS
Sivalingam Sivananthan
University of Illinois Chicago
Pradip Mitra
Leonardo DRS, Electro-Optical and Infrared Systems (EOIS)
Workshop Committee
WORKSHOP COORDINATORS
Palisades Convention Management
411 Lafayette Street, Suite 201
New York, NY 10003
iiviworkshop@pcm411.com
Paola Caicedo
Special Issue Coordinator
Sivananthan Laboratories, Inc.
590 Territorial Drive, Unit H
Bolingbrook, IL 60440
pcaicedo@sivananthanlabs.us